Bachelor of Business - Major in Aviation Management


Tertiary Education for Airline Pilots
 Professional Pilot Training is partnered with the Business School at Southern Cross University.  Tertiary education of any discipline is always advisable because it brings significant professional and personal advantages in analysis, report writing and communications.
Within aviation, an abinitio pilot course including multi engine instrument ratings and the Air Transport Pilot Licence Aeronautical Knowledge provides all of the skills and knowledge required to progress through to a captain of a heavy aircraft.
An Airline Captain is an excellent manager of an aeroplane and crew, but these competencies are not the same as the competencies needed to company management. 
As a pilot gains prestige in a company they are often promoted into senior management positions. The ideal airliner manager is one who has practical knowledge of the operational tasks and is competent with management business matters but the pilot training and line experience does not provide these competencies.
Often, as a pilot matures and family pressure mount, or health complications forces them out of the cockpit, pilots look for positions with the company that give them a more settled lifestyle.  If they are not qualified to hold management positions they leave the company and take years of corporate knowledge and experience with them.
In today's modern airline, the company recruiting strategy attempts to select 30% of its pilots with management skills or education qualifications other than aviation so that in 20 years the airline will have a pool of experienced pilots with qualifications suitable for senior positions.
Even with airline sponsoring cadet pilots airlines planning for the future consider that 30% of its cadet pilots should undertake business management degrees.
The Aviation Management Degree by Southern Cross University is being offered in the response to an airline request to offer Aviation Management Education rather than just expanding of the subjects of the Air Transport Licence as is often offered in an Aviation Degree.
Professional Pilot Training consider that if a pilot is to hold tertiary qualifications they should be in disciplines that bring a different dimension to the pilot and the airline so they can be used in takes other than flying an aeroplane.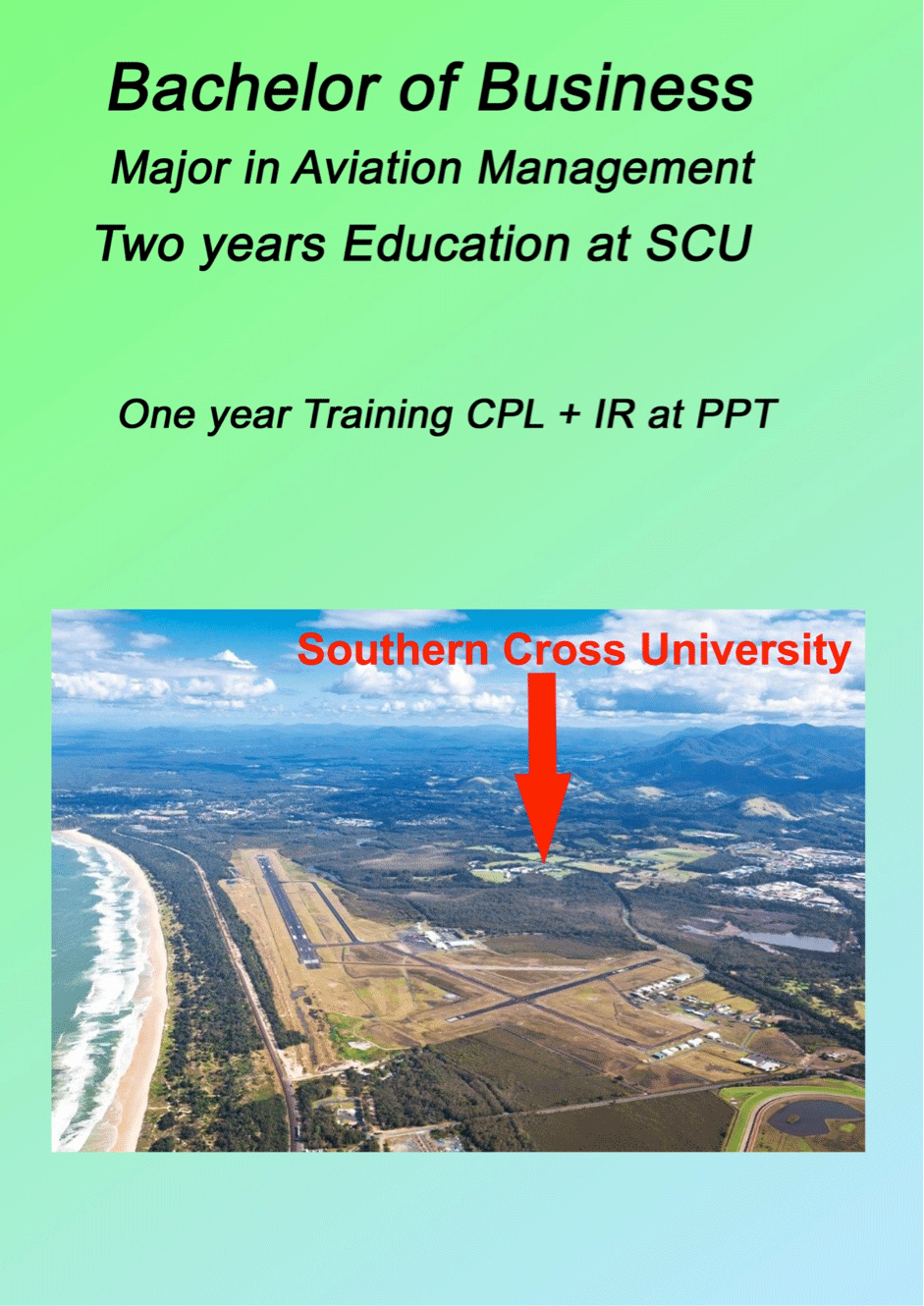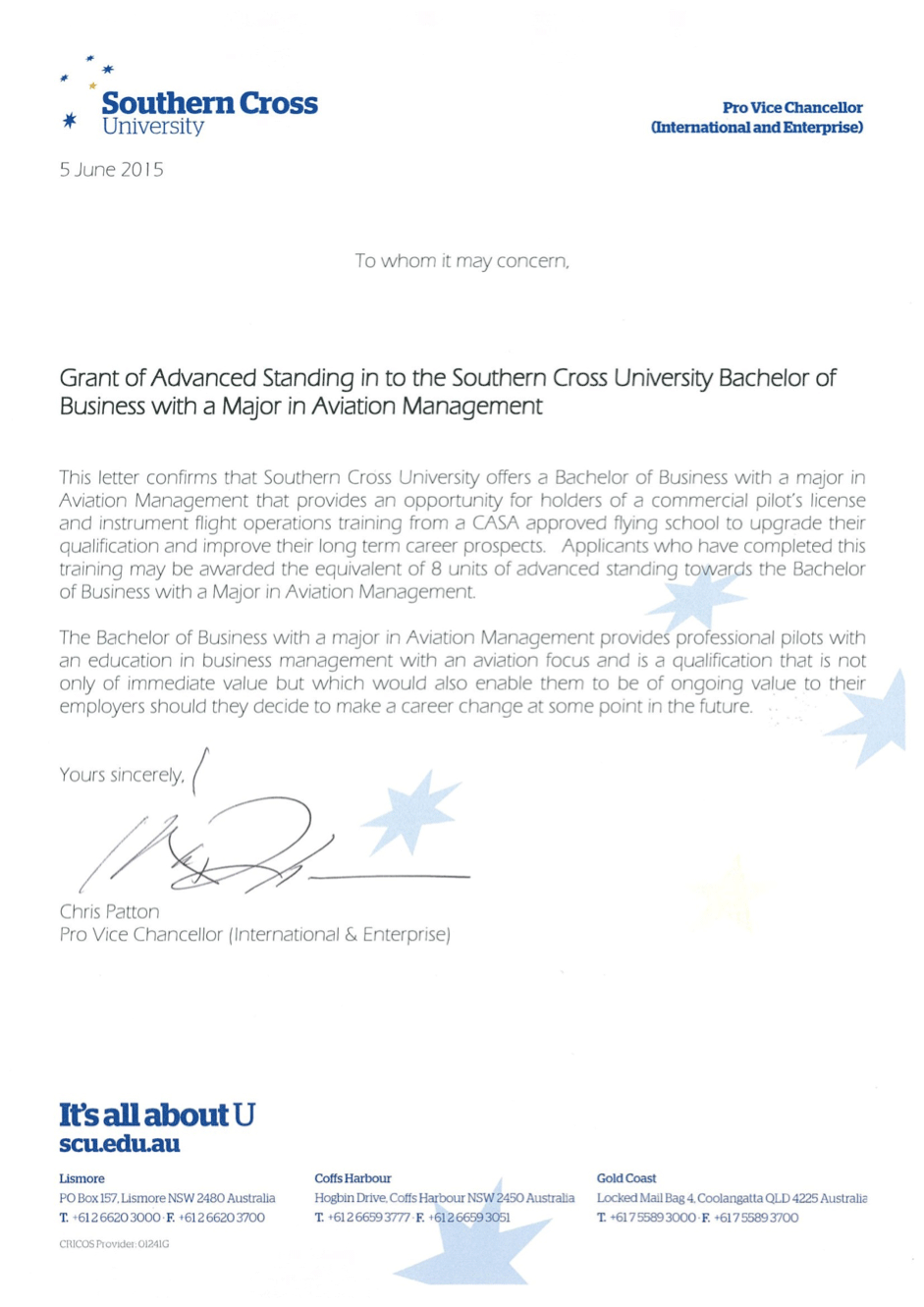 Year 1
Part A Core 8 units-level 1/Introductory

Airways Aviation Flying Program
Part A Core 8 units - Level 1/ Introductory
Airways Aviation Flying Program
Year 1 Session 1 (Feb to June)






Year 1 Session 2 (June to Oct)






SOC10236
Applied Ethics and Sustainability
ACC10707
 Accounting for Business
 LAW00150
Introduction of Business Law
 ECO10250
 Economics for Decision Making
 MNG10247
 Managing Organisation
 MKT00075
 Marketing Principles
 MAT10251
 Statistical Analysis
 FIN10708
Finance and Investment for Business
Year 2 (Commence anything from June - have 12 months to complete)
Airways Aviation Cert IV (CPL) and Diploma (IFO)
Year 3
Part B Major - Aviation Management

Airways Aviation Flying Program
 
Airways Aviation Flying Program
Year 3 Session 1 (Feb to June)






Year 3 Session 2 (June to Oct)






MNG10716

Organisational Stakeholder

Management

MNG10697
Aviation Management
 MKT1024
Services Marketing
 MNG10253
Sustainable Business Management +
 MKT00102
Consumer Behaviour
MNG00114
Competitive Strategy
MNG10696
International Tourism Destinations
MNG00314
Entrepreneurship and Innovation
Recommended Study Plan for Session 3 intake (Domestic Only)